Vancouver, British Columbia--(Newsfile Corp. - August 15, 2018) - Revelo Resources Corp. (TSXV: RVL) ("Revelo" or the "Company") is pleased to provide an update to the drill program at its Loro precious metals property that it is operating on behalf of its joint venture partner, a subsidiary of Hochschild Mining PLC ("Hochschild").
The first pass drill test, previously announced (see news release dated May 2, 2018), was completed in July with a total 2,972 metres drilled in 10 holes, and has confirmed the presence of a potentially large, low-sulphidation epithermal vein system with significant broad, low-tenor silver-gold intercepts such as 76m @ 19.2g/t Ag + 0.1g/t Au (L-003), enveloping higher-grade intercepts related to a series of narrow vein structures such as 0.5m @ 179g/t Ag + 0.51g/t Au (L-005). Drilling to date has tested one small portion of the large 4,800-hectare property.
The drilling was focused on two vein trends, Chucao and Tricao-Caleu, located on the Cerros Millahue and Pitekun respectively, in the "Central Zone" of the property encompassed within an area of approximately 800m (N-S) by 500m (E-W). Silver-rich quartz +/- carbonate veins, veinlets and associated hydrothermal breccias encountered by the drilling along the Chucao structure could represent the hanging-wall expressions of a major vein lying under cover on the western edge of the Cerro Millahue dacitic dome complex, the exploration for which requires further drill testing. Two massive late carbonate veins towards the bottom of L-004 contain breccia fragments of epithermal quartz vein material suggesting that such a possibly mineralised quartz vein occurs in the vicinity. Silver-rich halos in the hanging-walls to mineralised structures are typical at El Peñon, the major gold-silver mining district located 25 Km to the north.
The Cerro Millahue and Cerro Pitekun area is characterised by a rhyo-dacitic dome complex identified by geological mapping of sparse outcrops together with geophysical information (see news release dated March 14, 2018.) The Chucao and Tricao-Caleu vein systems were identified and mapped from sparse outcrops and sub-crops of veins and were consequently targeted for this initial drill test. Four drill-hole fences (8 holes) were drilled over approximately 400m of strike length of the Chucao vein system, and one drill fence (2 holes) was drilled on the Tricao-Caleu system (see attached maps and sections).
Mineralised intervals are hosted within the rhyo-dacitic dome complex, together with lesser andesitic volcanics, tuffaceous and volcaniclastic rocks. The host rocks and many of the mineralised structures are affected by a late carbonate overprint that may have diluted metal grades in some areas.
Tim Beale, President & CEO of Revelo commented: "These results are exciting and highly encouraging and indicate that part of a new, mineralised epithermal vein system of low-sulphidation type has been cut with this preliminary drill test. Given the proximity and similar geology to important precious metals vein districts to the north and to the south, and the overall significance of surface and drill geochemical results to date, further geochemistry, geophysics and drilling is warranted to follow-up the untested vein target at Cerro Millahue and the various other target areas discovered on the property. Discussions are underway with Hochschild to decide on future activities."
Drill Results to Date
Broad zones of low-grade silver and gold together with multiple, narrow higher-grade structures were cut by the drilling. The following table indicates some of the best results. Please also refer to the attached maps and section for further details.
Drill Hole #
Vein Structure
Interval (m)
From (m)
To (m)
Ag (g/t)
Au (g/t)
As (ppm)
Sb (ppm)
Hg (ppm)
L-002
Chucao
160.0
14
174
4.5
0.04
40.3
25.7
0.03


Including
4.6
14.2
18.8
31.2
0.66
63.7
75.6
0.15


Including
0.8
65
66
41.2
0.73
125
171
1.33
L-003
Chucao
321.0
12
333
6.7
0.03
42.0
30.0
0.07


Including
76.0
12
88
19.2
0.10
16.3
72.9
0.15


Including
4.0
30
34
121.0
0.87
302
509
0.80


Including
2.0
30
32
115.0
1.38
410
611
0.72
L-004
Chucao
338.0
6
344
7.7
0.03
43.5
24.8
0.06


Including
150.0
64
214
11.2
0.04
49.3
32.2
0.1


Including
12.0
64
76
20.2
0.12
36
77
0.28


Including
2.0
64
66
34.5
0.50
61
200
1.46
L-005
Chucao
3.0
92
95
47.0
0.10
272
351
3.55


Including
0.5
93.5
94
179.0
0.51
1095
1650
20.40
L-006
Chucao
Minor Anomalies
L-009
Chucao
242
6
248
2.2
0.02
48.8
16.8
0.03


Including
6.0
156
162
20.4
0.09
103.3
40
0.15


Including
2
156
158
31.0
0.11
77
62
0.29


Including
2
238
240
20.0
0.13
172
118
0.28
L-001
Tricao-Caleu
0.3
183
183
29.7
0.13
184
174
0.59
Assay results for holes L-008 and L-010 (Chucao), and most of L-007 (Tricao-Caleu) are still pending.
Note: All quoted widths are down-hole widths, and do not necessarily represent true widths.
Technical Analysis
The vein structures cut to date along the Chucao and Tricao-Caleu vein zones all display hydrothermal breccias and quartz +/- carbonate veining of low-sulphidation epithermal type, with multiple silicification events and classical textures for low sulfidation epithermal deposits including, in part, banded, crustiform-colloform, massive, brecciated and lattice textures. Amethystine quartz occurs in some of the breccias and veins. Ore minerals in the veins identified to date include acanthite, pyrargyrite / proustite, and possible electrum, with associated minor base metal sulfides.
Some banded quartz veins, particularly in the deeper (> 250m) portions of the Chucao vein system seen in hole L-004, are crosscut by late, barren calcite veins and veinlets, likely precipitated from steam-heated fluids. These massive and barren calcite veins have overprinted and diluted likely pre-existing hydrothermal breccias and veins. This is evident by the presence of quartz-vein breccia fragments within the late carbonate veins and carbonate cemented breccias encountered at depth in hole L-004. These breccia fragments may reflect a pre-existing mineralised quartz vein that could sub-crop in the flats under thick colluvial cover, immediately west of Cerro Millahue, where float blocks of quartz vein material occur. This idea is supported by the possibility that all the silver-rich quartz veins, veinlets and associated hydrothermal breccias encountered during this initial drill test along the Chucao vein system could represent the hanging wall expressions of the proposed new vein system lying under cover on the western edge of the Cerro Millahue dacitic dome complex. This idea requires further follow up and drilling.
Elevated arsenic, antimony and mercury values suggest that the very upper portions of the epithermal vein system have been cut, with most of the drilling to date cutting structures at relatively shallow vertical depths of around 100 metres to 200 metres, with a maximum vertical depth of around 400 metres in the case of the western-most Chucao vein structure in hole L004. Current interpretations suggest that, apart from following up the possible covered vein to the west of Cerro Millahue, deeper drilling may be required. Typical ore shoots in such epithermal vein systems may have vertical extents of only 200m to 300m, and lateral extents of 100m to 300m.
Additionally, and significantly, other geological, geochemical and geophysical features that may correspond to epithermal precious metals veins occur on the large property, within an overall corridor some 9Km (N-S) by 2Km (E-W), of which only a small part has been tested by drilling to date, including:
Large and intense surface soil and colluvium, arsenic and antimony geochemical anomalies, in areas of little or no outcrop, some 500 metres or more to the east, southeast and south of the area targeted by the current drilling, within the Central Zone;
Large area of chalcedonic silica float with possible characteristics of a high-level sinter deposit above an epithermal system, and associated with widespread surface soil and colluvium mercury anomalies, in the Northern Zone; and
Magnetics features likely associated with at least three separate, en-echelon arranged, rhyo-dacitic dome complexes, centred on the North, Central and South Zones, which may be genetically and spatially related to the epithermal veins sought.
All samples have been sent to ALS Chemex laboratories in Antofagasta, Chile for PREP-31B preparation, and subsequently sent to ALS Chemex laboratories in Lima, Peru for Au-AA24 analysis for gold, and ME-ICP61m analysis for 33 elements including silver. Mercury analyses are also being carried out using the Hg-MS42 (0.005 -100 ppm) package.
Quality control measures include the insertion of 10% of standard materials, including blanks, together with 10% of field duplicates and 5% of analytical duplicates.
ABOUT LORO

Loro is located along the highly productive Paleocene (or Central) Mineral Belt in northern Chile that contains several important gold, silver and copper mines and projects. The project is located along trend and just 25 km due south of the Yamana Gold owned and operated, multi-million-ounce gold-silver district of El Peñon. The project also lies just a few kilometers east of Revelo's important Las Pampas project, also prospective for low-sulphidation, epithermal precious metals veins. The 4,800-hectare Loro project area is located at relatively low altitudes (1,800m to 2,000m), has subdued topography, and is easily accessed, being located within a short driving distance from the Pan-American Highway along a dirt road, some two hours' drive from Antofagasta and 2.5 hours from Taltal.
The Loro project is currently subject to an option, sale and royalty agreement with a subsidiary of Hochschild. Under the agreement, Revelo will operate Phases 1 and 2 of the exploration program (to end Year 3). Hochschild can earn a 100% interest in the Loro project over a maximum of five (5) years in exchange for a series of in-ground investments and/or drilling commitments totalling US$13 million and/or 30,000 metres, and a series of cash payments to Revelo totalling US$5.3 million. Further payments totalling US$15 million are due once the option has been exercised by Hochschild. Revelo will be the beneficiary of a 1% NSR royalty on any future production from the property. (See Company's News Releases dated June 6, 2017and September 05, 2017). For further details of the Loro Project please refer to the Loro Project page on Revelo's website (www.reveloresources.com).

Dr. Demetrius Pohl, Ph.D., Certified Professional Geoscientist (CPG), an independent consultant, is the Company's Qualified Person for the purposes of National Instrument 43-101 Standards of Disclosures for Mineral Projects of the Canadian Securities Administrators and has approved the written disclosure of the technical information contained in this news release.

ABOUT REVELO

Revelo has interests in an outstanding portfolio of projects prospective for copper, gold and silver located along proven mineral belts in one of the world's top mining jurisdictions - Chile. The Company has a combination of wholly-owned projects (available for option, JV or sale), option agreements, royalty interests (non-producing to date), and equity interests in mining and exploration companies. Revelo's total exposure to mineral tenements in northern Chile, either wholly-owned or through royalty interests, is around 200,000 hectares.

Revelo is a Canadian company and is listed on the TSX Venture Exchange (TSXV: RVL). For more information, please visit Revelo's website at www.reveloresources.com.

ON BEHALF OF THE BOARD

"Michael Winn"

Michael Winn, Chairman

INVESTOR CONTACT
Timothy J Beale
President & CEO
T: +1 604 687-5544
info@reveloresources.com
www.reveloresources.com
Neither the TSX Venture Exchange nor the Investment Industry Regulatory Organization of Canada accepts responsibility for the adequacy or accuracy of this release.

FORWARD-LOOKING STATEMENT
This news release contains certain statements that may be deemed "forward-looking statements". All statements in this release, other than statements of historical fact, that address events or developments that Revelo expects to occur, are forward-looking statements. Forward-looking statements are statements that are not historical facts and are generally, but not always, identified by the words "expects", "plans", "anticipates", "believes", "intends", "estimates", "projects", "potential", "indicate" and similar expressions, or that events or conditions "will", "would", "may", "could" or "should" occur. Although Revelo believes the expectations expressed in such forward-looking statements are based on reasonable assumptions, such statements are not guarantees of future performance and actual results may differ materially from those in forward-looking statements.


Loro Project Geology Map
To view an enhanced version of Loro Project Geology Map, please visit:
https://orders.newsfilecorp.com/files/3761/38113_1enhance.jpg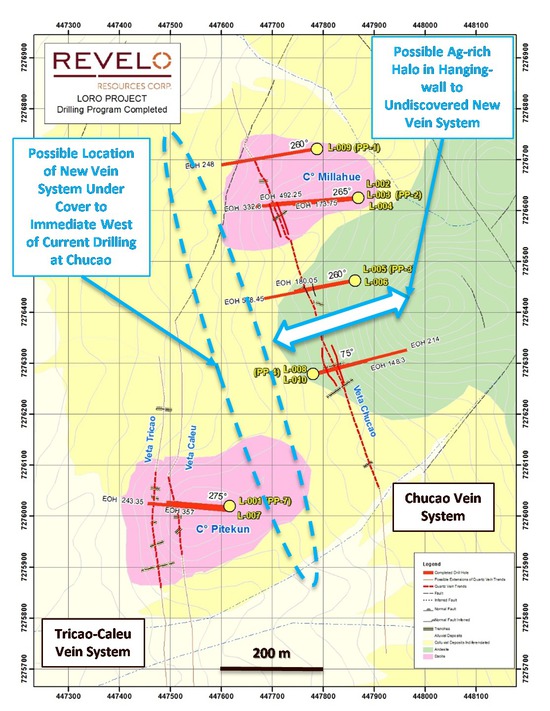 Loro Project Drilling Program Completed
To view an enhanced version of Loro Project Drilling Program Completed, please visit:
https://orders.newsfilecorp.com/files/3761/38113_2enhance.jpg

Loro Project Schematic
To view an enhanced version of Loro Project Schematic, please visit:
https://orders.newsfilecorp.com/files/3761/38113_3enhance.jpg