HONG KONG, Aug. 04, 2023 (GLOBE NEWSWIRE) -- Hywin Holdings Ltd. ("Hywin Wealth" or "Hywin") (NASDAQ: HYW), a leading independent wealth management service provider in China, Leonteq Securities AG ("Leonteq"), a Swiss fintech company with a leading marketplace for structured investment solutions, and Arta TechFin ("ARTA") (HKSE: 0279), a hybrid fintech platform in traditional assets and digital assets, today announced the successful launch of the "Global Mega-Trends Series" of principal-protected structured products for high-net-worth clients in Asia.

This new suite of thematic products is a continuation of the product issuance program unveiled by Hywin, Leonteq and ARTA in April 2023, and offers participation in a range of global trends that will be sustainable, actionable, and complementary to the portfolios of long-term investors in Asia, which are usually dominated by Asia equities, onshore fixed income, and alternatives funds with home country bias. ARTA's subsidiary Arta Global Markets Limited acts as a distribution partner of the "Global Mega-Trends Series" of principal-protected structured products.
100% capital protection is a prominent feature in all products of the "Global Mega-Trends Series", providing peace of mind to investors who appreciate upside participation with full downside protection in a world with many possibilities but also volatilities. The combined research knowhow, structuring expertise, and tech-powered processes of Hywin, Leonteq, and ARTA guided the design, testing, and calibration of the products.
The "Global Mega-Trends Series" include:
"Electric Champions"
Electric Vehicle (EV) markets are seeing exponential growth globally, exceeding 10 million sales in 2022, according to the International Energy Agency. A total of 14% of all new cars sold were electric in 2022, up from around 9% in 2021 and less than 5% in 2020.
This principal-protected note offers participation in a Leonteq index comprising Tesla, ON Semiconductor Corp, Albemarle Corp, STMicroelectronics NV, Infineon Technologies AG, Analog Devices Inc, and other leaders in the global EV eco-system.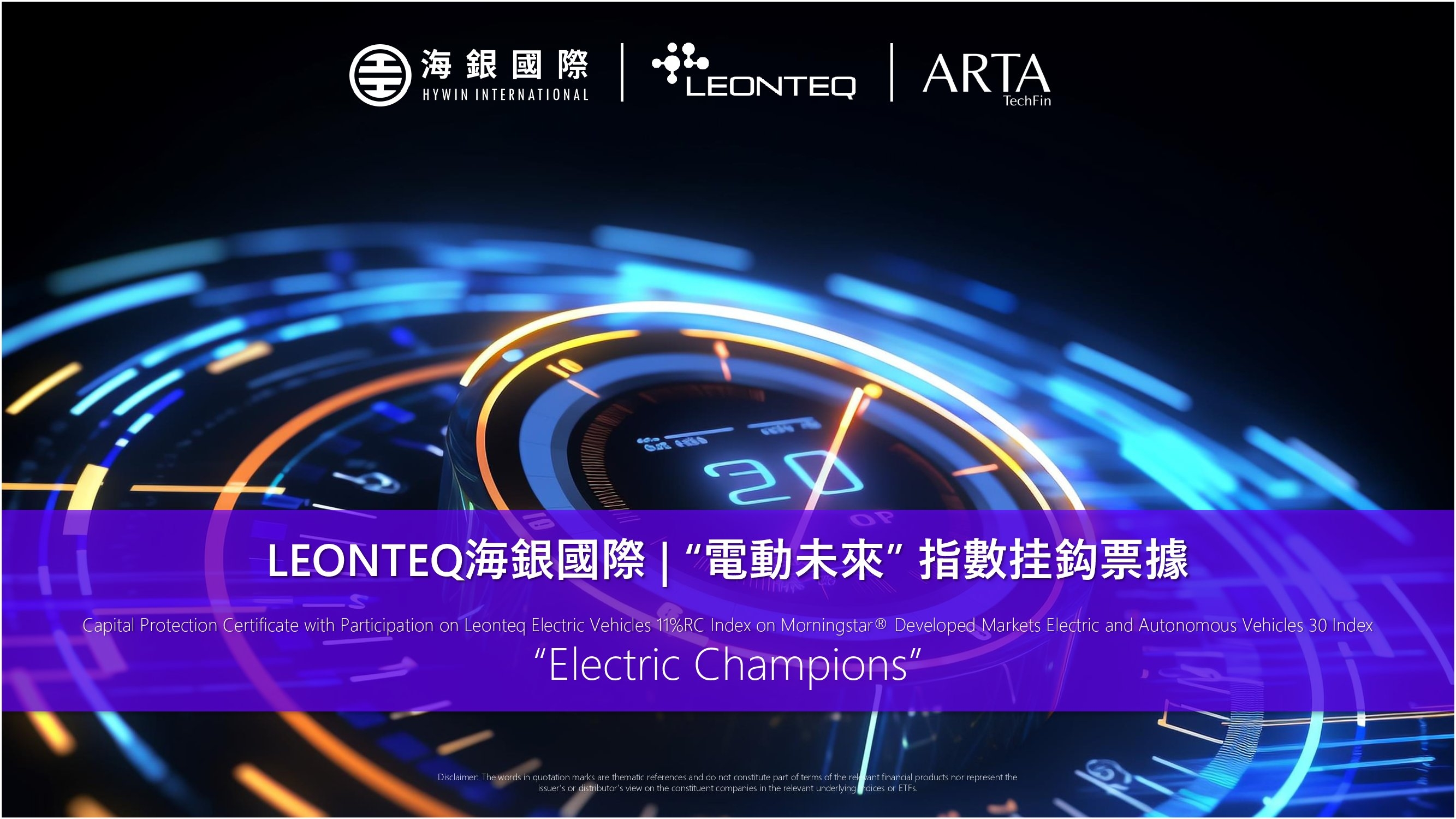 "AI Architects"
Recent revolutionary AI applications such as ChatGPT and Generative AI are drawing the attention of global investors. According to McKinsey's latest study, Generative AI could add up to U.S. $4.4 trillion to the global economy annually.
This principal-protected note tracks a Leonteq index with constituents including NVIDIA, Apple, Amazon, Microsoft, Tencent, and other companies that are likely direct beneficiaries from their innovations and deployment of AI.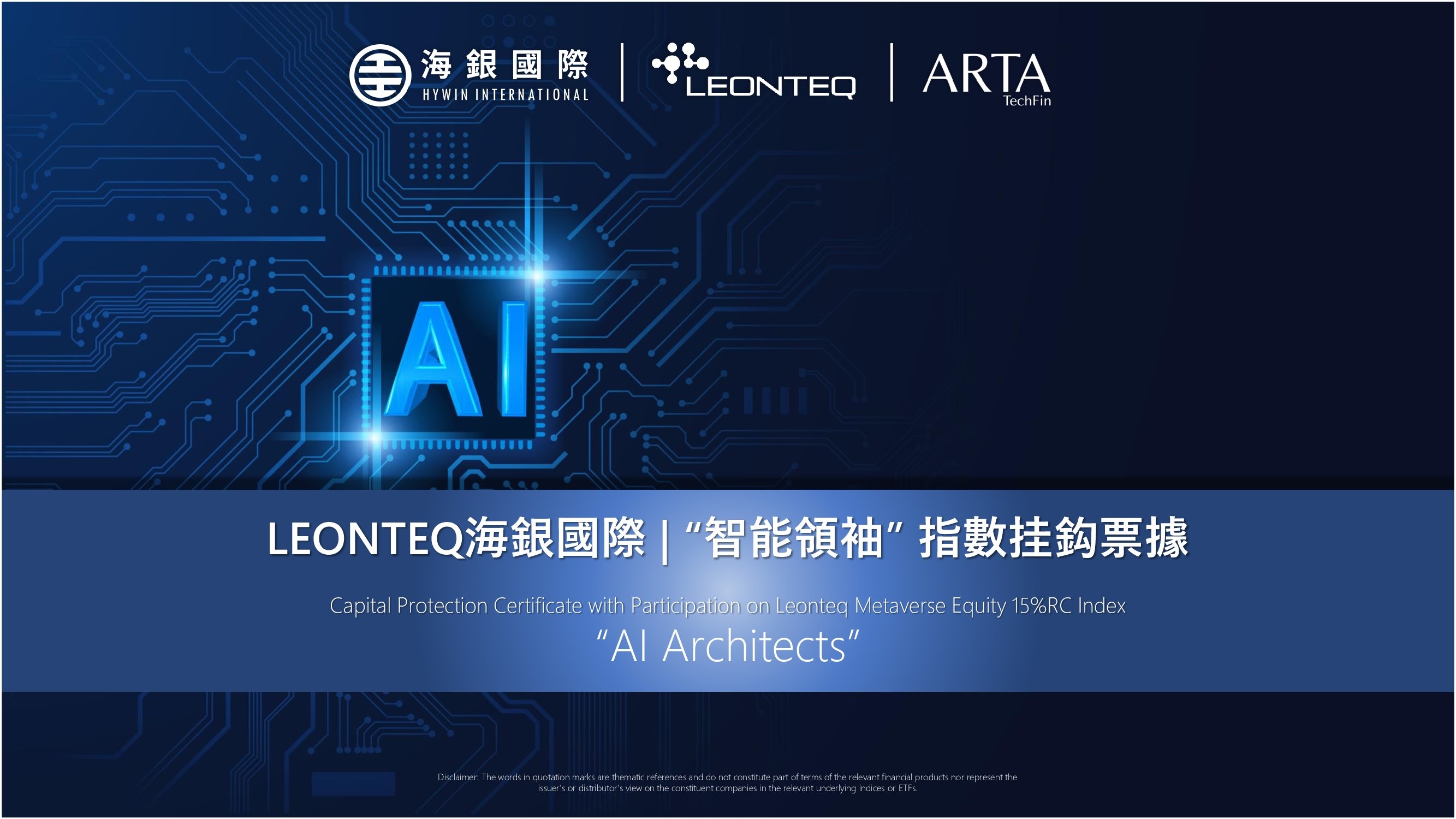 "Peace Engineers"
As peace becomes a top priority for governments and their citizenries, global defense and security expenditures reached U.S. $2.24 trillion in 2022, a historical high, according to Stockholm International Peace Research Institute.
This principal-protected note is linked to a Leonteq index that offers upside participation in Fortinet Inc, TransDigm Group Inc, Airbus SE, Safran SA, Thales SA, Boeing Co. and other contractors which are likely to thrive on procurement orders of historical proportions.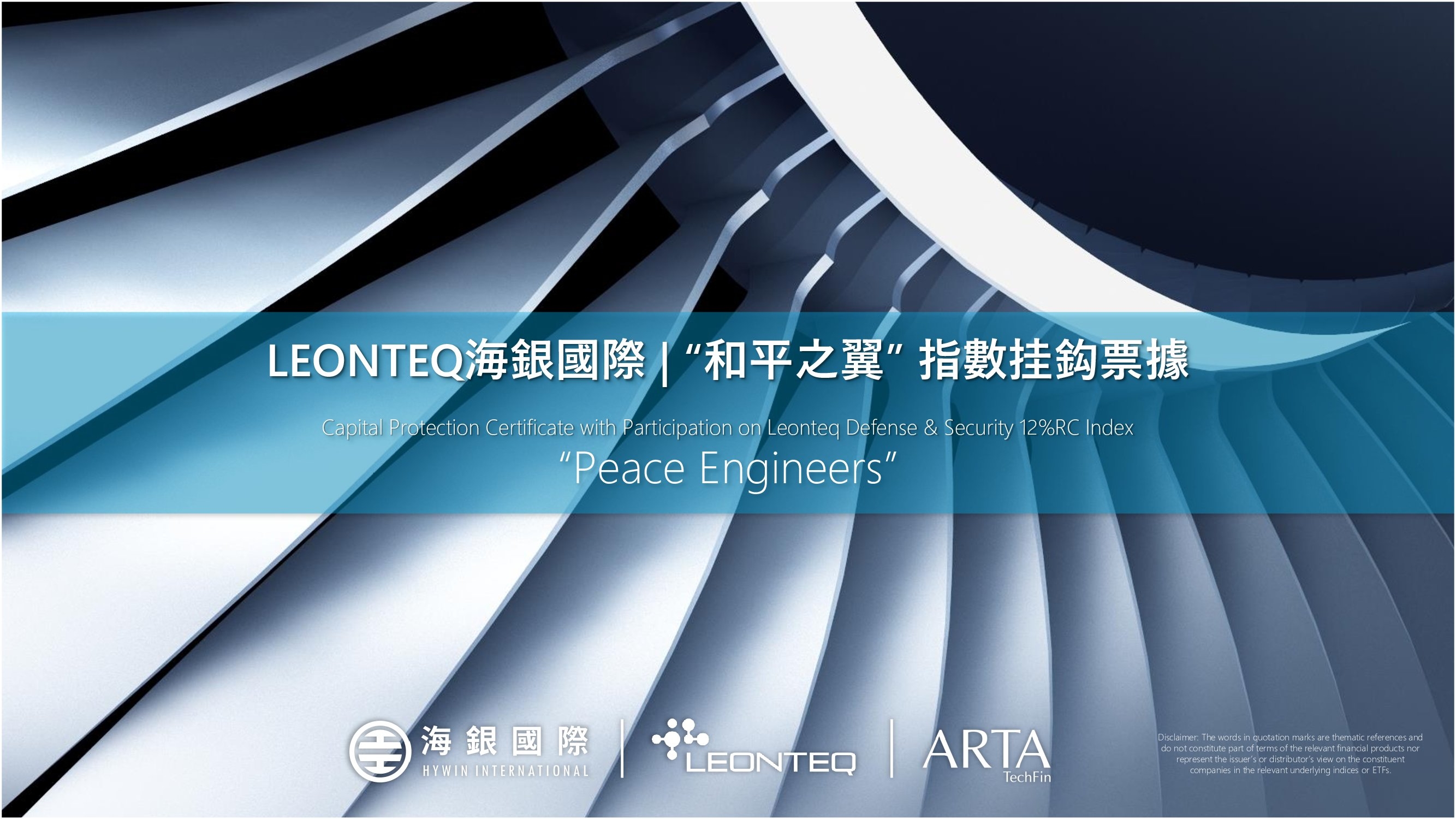 "American Titans"
The U.S. corporate sector has maintained resilient growth in recent years and navigated the impact of inflation and monetary tightening quite well. Large-cap companies have performed with particular strength in earnings and share prices, supported by their innovative leadership, global customer base, and pricing power.
This principal-protected note tracks a Leonteq index that reflects the performance of Apple, MasterCard, Home Depot, KLA Corp, AbbVie Inc, Amgen Inc, Cigna Group, and other U.S. large caps that continue to lead the successes of corporate America at home and abroad.
"Nikkei Renaissance"
Corporate governance reforms, low interest rates, return of inflation, and accelerating global supply chain relocation are powering the growth of the Japanese corporate sector. Earnings momentum and cheap valuations have attracted global investors including Warren Buffett, making Japanese equities a global focus after three lackluster decades.
This principal-protected note tracks a Nikkei 225 ETF, providing investors exposure to the growth prospects of companies such as Tokyo Electron Ltd, Advantest Corp, Daikin Industries Ltd, FANUC Corp, Fast Retailing Co Ltd, and other winners in the world's renewed embrace of Japanese technology, innovation, and lifestyle.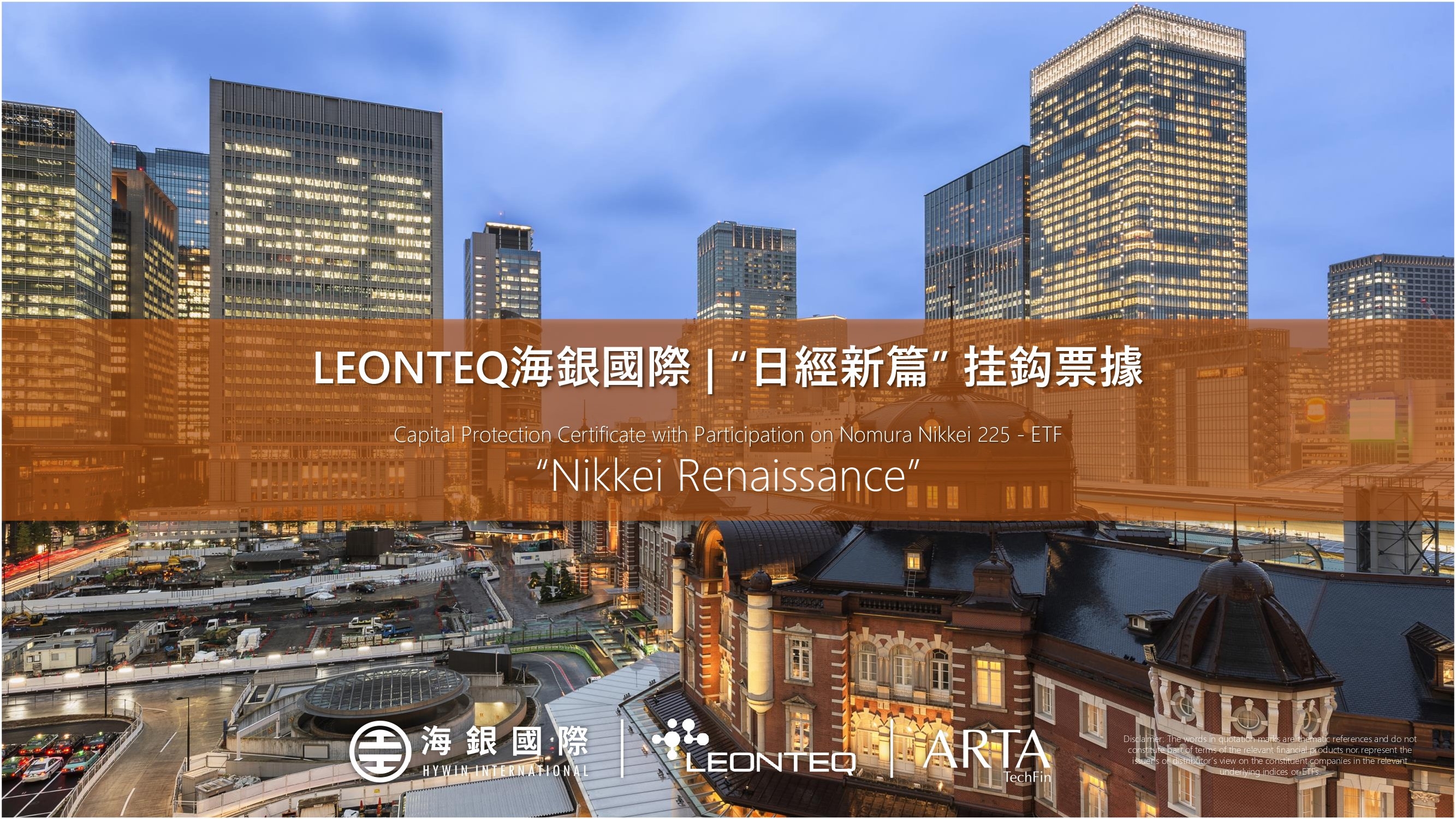 "Trends are relatively easy to spot, but much harder to catch," said Nick Xiao, Chief Executive Officer of Hywin International, the Hong Kong subsidiary of Hywin Holdings. "This Global Mega-Trends Series offers Asia investors the opportunity to participate in distinct and rewarding multi-year developments, without losing the benefits of diversification or capital protection. Hywin's investment philosophy is truly embodied in these strategic products for our clients."
"The Global Mega-Trends Series once again showcases Hywin's research prowess across sectors and markets, and presents clients with new building blocks for their portfolios meant to capture long term returns through market cycles," added Lawrence Lok, Chief Financial Officer of Hywin Holdings. "This launch also demonstrates once again Hywin's proprietary product capabilities, and skills in executing complex projects with our global partners."
"Leonteq is very pleased to deepen our collaboration with Hywin and ARTA and expand the thematic offerings to investors in Asia. Leonteq will continue to help our partners seize trends and capture value through our creative structuring and rigorous risk management," said Edward Ho, Head of Asia at Leonteq.
"ARTA's technology insights and market knowhow bring significant value to investment design and distribution of this product series. ARTA's tripartite partnership with Hywin and Leonteq continues to create innovative and performance-driven solution to global investors," said Eddie Lau, Chief Executive Officer of ARTA.
Aaron Sung, Head of Asset Management at Hywin International, and his counterpart Philip Chiu, Head of Partnership and Strategy Asia at Leonteq, are the co-leads of this project. "The complex facts of markets, the intricacies of investor psychology, and the balancing of participation and protection have reached a good equilibrium in this product series," said Sung.
About Hywin Holdings Ltd.
Hywin (NASDAQ: HYW) is a leading independent wealth management service provider in China focusing on providing asset allocation advisory services and comprehensive financial products to high-net-worth clients. The Company's primary services are wealth management, asset management, other comprehensive financial services, and health management services. Wealth management is currently the Company's largest business segment, in which its onshore and offshore solution platforms serve clients across generations. We also offer integrated and high-end health screening and health management services to high-net-worth clients in China, and aim to become a dual-platform serving clients across market cycles and life cycles. For more information, please visit https://ir.hywinwealth.com/.
About Arta TechFin Corporation Limited
Arta TechFin (HKSE: 0279) is a hybrid financial (HyFi) platform bridging traditional finance with blockchain-based financial system via technology innovations. Our regulated one-stop solution enables corporates, financial institutions, and family offices to access traditional assets and digital assets.
ARTA, through its various subsidiaries, are licensed under Hong Kong Securities and Futures Commission. Other licenses include Hong Kong Stock Exchange participant, insurance brokerage license, trustee license and money lending license in Hong Kong as well as Eurex participant in Germany.
About LEONTEQ
Leonteq is a Swiss fintech company with a leading marketplace for structured investment solutions. Based on proprietary modern technology, the company offers derivative investment products and services and predominantly covers the capital protection, yield enhancement and participation product categories. Leonteq acts as both a direct issuer of its own products and as a partner to other financial institutions. The company has offices and subsidiaries in 13 countries, through which it serves over 50 markets. Leonteq Securities AG is the main operating subsidiary of Leonteq AG. The company is a securities firm regulated by the Swiss Financial Market Authority FINMA and is a member of the Swiss Structured Product Association. Leonteq AG is listed on the SIX Swiss Exchange (SIX: LEON). www.leonteq.com
Hywin Investor Contact:
Hywin Holdings Ltd.
Email: ir@hywinwealth.com
Hywin Media Contact:
ICR, LLC
Email: HywinPR@icrinc.com
Arta TechFin Investor Relations:
ir@artatechfin.com
Leonteq Investor Relations:
+41 58 800 1855
investorrelations@leonteq.com
Leonteq Media Relations:
+41 58 800 1844
media@leonteq.com
Photos accompanying this announcement are available at https://www.globenewswire.com/NewsRoom/AttachmentNg/3902d648-f31d-4755-bf64-9369e18a1d19
https://www.globenewswire.com/NewsRoom/AttachmentNg/a372e754-571c-401c-9510-63c518cb07fe
https://www.globenewswire.com/NewsRoom/AttachmentNg/3a9eab02-5a7b-4f59-b21b-622079f14857
https://www.globenewswire.com/NewsRoom/AttachmentNg/ae860911-e7a8-4ffc-80b7-81f9ea33d9c1
https://www.globenewswire.com/NewsRoom/AttachmentNg/36275a6b-b208-49e8-a434-985475e44317